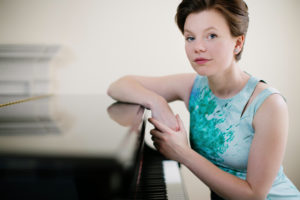 Photo: Julie Kim
CLARE HAMMOND. Acclaimed as a pianist of "amazing power and panache" (The Telegraph), Clare Hammond is recognised for
the virtuosity and authority of her performances and has developed a "reputation for brilliantly imaginative concert programmes" (BBC Music Magazine). In 2016, she won the Royal Philharmonic Society's 'Young
Artist Award' in recognition of outstanding achievement and in 2020 she was engaged to perform at the International Piano Series (Southbank Centre) and the Aldeburgh Festival. In recent seasons, Clare has performed Hesketh with the Royal Liverpool Philharmonic Orchestra, Panufnik with the Warsaw Philharmonic Orchestra, Roxburgh with the BBC Symphony Orchestra, and Connesson with the Philharmonia. In 2019, she gave
the world premiere of Uncoiling The River by Kenneth Hesketh with the BBC National Orchestra of Wales (Martyn Brabbins) and released the Complete Keyboard Works of Myslivecek with the Swedish Chamber
Orchestra for BIS Records. She was engaged to perform with the Britten Sinfonia, Sinfonia Varsovia and Royal Philharmonic Orchestra in 2020 and performs Rachmaninov with the BBC Symphony Orchestra in 2021.
Clare's discs for BIS have been widely praised with the Observer describing her as a "star interpreter of contemporary music" in Hesketh and The Times commending her "deliciously unfussy poise and elegance" in Myslivecek. Etude received unanimous critical acclaim for its "unfaltering bravura and
conviction" (Gramophone). Her discography includes world premiere recordings of over twenty works. Clare completed a BA at Cambridge University, where she obtained a double first in music, and undertook
postgraduate study with Ronan O'Hora at the Guildhall School of Music & Drama.
Doreen Carwithen
(1922-2003)

Sonatina (1946)
Allegro moderato
Molto Adagio
Allegro molto
William Grant Still
(1895-1978)
Bells (1944)
Sofia Gubiadulina
(*1931)
Chaconne (1963)
Frederick Delius
(1862-1934)
3 Preludes (1923)
Scherzando
Quick
Con moto
Charles-Valetin Alkan
(1813-1888)
Chant op.70 Nr.2 (1873)
Nikolai Medtner
(1882-1937)
Sonata Romantica, Op. 53 No. 1 (1931)
Romanza
Scherzo
Meditazione
Finale